What will you find in your mailbox tomorrow? You don't need a crystal ball to know the answer. Now, USPS is pulling back the curtain to allow recipients a sneak preview of their mail before it arrives. Informed Delivery, the new post office tracking service, will change the way we receive mail—and the way direct mail marketers send it. Here's what you need to know.
What Is Informed Delivery Tracking? How Does It Work?

Informed Delivery tracking is a new post office tracking feature from the United States Postal Service. The free feature lets users view their mail before they receive it. (The envelopes, that is—no peeking inside!) Users who sign up for the service will get a morning email (usually before 9 AM) on days when USPS processes their mail. This email shares scans of the mail they can expect to receive soon.
The images are grayscale digital scans of the front of mail pieces. Digital scanning has long been a part of the USPS mail delivery process. Now, for the first time, the postal service is sharing those images with recipients. In addition to email, these images will also be available for seven days on the Informed Delivery website. (It's completely free.) Signing up requires details like your email and address, and zip code. You'll also need to supply a password and answers to security questions to help verify your identity should you lose it. There are no subscription fees or other commitments involved.
Who Can Use Informed Delivery? What Can They Track?
Sadly, not everyone can use Informed Delivery tracking. Not yet, anyway. The mail tracking service was first offered in select cities. These cities included:
Atlanta

Baltimore

Chicago

Dallas

Detroit

Houston

Miami

Minneapolis

New York

Philadelphia

Pittsburgh

San Francisco

Northern Virginia

Washington, D.C.
The service is now available nationally and has gained over 2 million users. 10,000 new people are signing up every day. Some specific addresses aren't yet eligible for Informed Delivery tracking. However, the network continues to expand.
Some business mailers can access the tracking features through USPS's pilot program. However, Informed Delivery is currently geared toward residential addresses and individuals. Also, Informed Delivery can't track delivery to Post Office boxes.
The service also requires an internet connection and access to a smartphone or computer.
The types of direct marketing mail that can be tracked through Informed Delivery is also specific. Of course, mail is limited to pieces processed through USPS mail centers. It doesn't matter if they're promotional postcards or business holiday cards. It's also limited to automated, letter sized mailpieces. However, USPS hopes to expand the service to track larger size mailings, as well as brochures and catalogs in the future.
What Are the Benefits of Informed Delivery?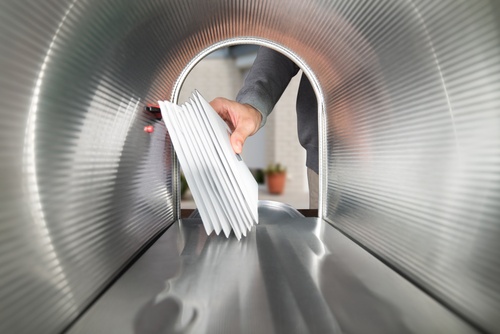 So why should users be excited for Informed Delivery? There are quite a few benefits for recipients including:
The ability to see a preview of mail before it arrives.

Remote access lets users track mail on the go.

Busy households can ensure important mailings aren't forgotten or misplaced.

Special offers and web addresses printed on mailings can be accessed right away, instead of waiting for physical mail to arrive.
Users can also elect to receive a daily email notification. Or, they can simply access their scans as needed through the website. This makes it easy to enjoy these benefits when and where they want.
How Will Informed Delivery Affect Direct Mail Marketing?
Informed Delivery can definitely improve the experience of tracking and receiving mail. But what about sending it? Businesses and nonprofits may be asking themselves, "What will this mean for my direct mail marketing campaigns? How should I adapt my strategic marketing efforts?"  Marketers can certainly continue to deliver campaigns the same way they did in the past. However, those looking to build brand loyalty and boost donations and sales should consider the following:
Put Your Best Face Forward
Informed Delivery scans and shares only the fronts of envelopes. Special offers, big news, website links, and calls to action should be brought to the front. There, they can be seen in Informed Delivery previews. Ask yourself: "How can my brand position these elements to pique the interest of recipients?"
Strike the Right Tone
Bright, colorful envelopes are a great way to make mail stand out from the pile. But remember, Informed Delivery mail previews are scanned in grayscale. This doesn't mean you should abandon colorful mailings. However, it does make it more important than ever to pay attention to tonal quality.
When viewed in full color, shades with different hues and saturation points may "pop" easily against each other. Yet, these same shades may become an illegible blur when converted to grayscale. Before sending a direct mail campaign, review your designs. Ensure they're just as dynamic and easy to read in white, black, and gray as they are in full color.
Optimize for Omni-Channel
Marketers aren't just able to announce special offers via digital preview. Now, they can also provide clickable links with scans. This is no small detail. It's a huge advantage. Especially, when it comes to bridging the gap between digital and print marketing. Marketers who want to make the most of this feature should create dedicated landing pages for their direct mail campaigns. Track traffic to these pages and from USPS.com. That way, you can measure how much Informed Delivery tracking impacts traffic, leads, and conversions.
Pick the Perfect Format
Remember that USPS Informed Delivery currently only shares previews of letter-sized mailings processed through USPS' automation equipment. So currently, if you're optimizing a large brochure or catalog with Informed Delivery in mind you're wasting your time. Consider switching campaigns you'd like users to preview to a letter-sized envelope format. Or try testing one format against another to see how redemption rates compare.
There's no question that USPS Informed Delivery will have an impact on direct mail marketing. It's important to remember, however, that the service is still very new. Users can expect USPS to expand features and fine-tune the service in the coming years. Direct mail marketers should keep a close eye on these changes. That way, they can stay ahead of the curve and outpace their competitors' conversion rates.
Looking for more ways to pull ahead of the competition? Subscribe to the MSP Blog to stay updated on the latest mailing, printing, and marketing news!
What does the Future Hold For Direct Marketers?
What do you think of Informed Delivery tracking? Do you think the service ruins the surprise of direct mail? How do you think it could benefit you? Do you plan to try it? Let us know in the comments section below.
As a smart marketing professional, you know that direct mail is a wise choice to include in your multichannel arsenal. But exactly how effective is direct mail marketing? We're here to answer that question for you. Direct Mail Marketing Continues to Grow ...
read more