Do you remember the last three QR codes you scanned? If you're shaking your head, don't worry—you're not alone. For awhile it's seemed like QR codes might just be another tech fad. While users and marketers alike first loved the codes and the world of digital possibilities they offered, interest slowly waned. Bring up the topic with your marketing team and you might hear the phrase, "Do people still use QR codes?"
The few extra steps it took to download and use scanning apps created a snag in usability. Like Palm Pilots and beepers, QR code popularity seemed destined to fade into tech obscurity. Then, on September 19, 2017 everything changed.
A New Era for QR Code Possibilities
What exactly happened on September 19th? Apple released their latest operation system update, iOS 11. The system included several new and updated features for tablets and phones, many of which consumers were excited to try out on their new iPhone 8 or iPhone X. Included in the OS's expansive list of new camera options was a native QR scanner.
That small change makes a BIG difference in the world of QR codes. For the first time, tablet and smartphone users don't need an outside app to unlock QR codes. They can simply flip on their cameras, and in the time it takes to snap a selfie, they can scan a QR code. 
Experts are already reporting changes in QR code popularity. Forbes reports: "Recent data shows usage is increasing: 34% of US smartphone users have scanned a QR code – rising to 46% of tablet owners. Expect these numbers to go up sharply in the coming 12 months."
5 Benefits of Adding QR Codes to Direct Mail
It's no secret that marketers and brand managers are excited to ride the rising wave of QR code popularity. At MSP, we love leveraging emerging technologies for our clients' direct mail marketing campaigns. If you're wondering how QR codes can boost your direct marketing, consider these five powerful benefits:
1. QR Code Popularity Brings New Focus to Digital Marketing
The human brain processes digital and physical media in unique ways. One study conducted by USPS revealed interesting data. Here are just a few conclusions drawn from that study:
Direct mail elicits greater internal thinking

Direct mail aligns with a person's feeling and memories

Those reading online materials display difficulty in maintaining focus

Online activity requires greater filtering of irrelevant information to complete a task
Direct mail can help brands make an intellectual and emotional impact on consumers. Consumers spend 8.4 minutes sorting mail—plenty of time to deliver information and excite readers to actively engage. QR codes make moving to that customer engagement stage much easier, whether it's downloading an app, watching a video, or redeeming a special offer.
The direct mail piece has already captured the reader's interest and relayed important information. As users scan their QR codes and move to the next step, they already know what to expect. Their attention is already captured, making the dwindling digital attention spans of users less of a hurdle.
2. QR Scanning Leverages the Rise of Mobile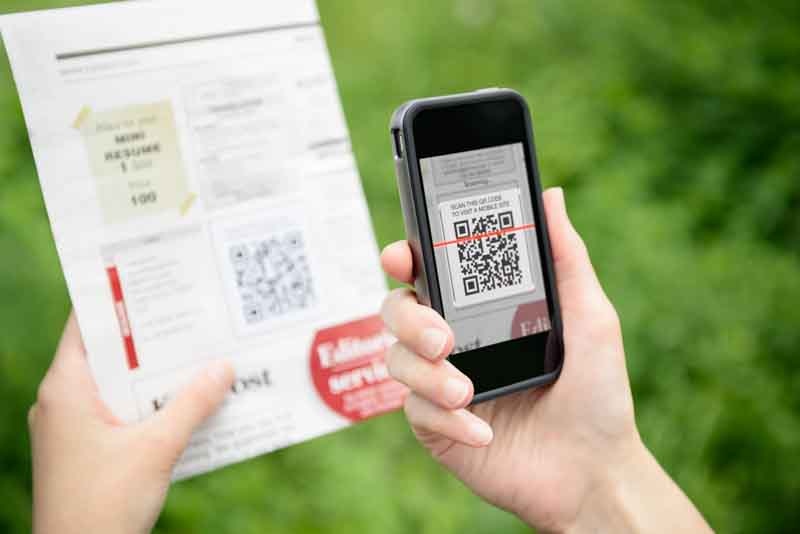 There are over 182 million mobile devices in the marketplace today. Over 128 of these are smart devices.  80% of internet users own a smartphone, and Google itself has designed free brand management tools like the Mobile-Friendly Test to help website owners improve user experience for mobile users.
QR codes provide a quick and easy way for smartphone users to interact. With a quick scan, they can be transported from a piece of print media to a world of digital possibilities. While a recipient may not feel compelled to turn on a PC and type in a url show on their mail by hand, ease of use compels mobile users to engage and interact.
3. QR Code Popularity Drives Engagement and Conversions
Direct mail marketing campaigns hold serious power when it comes to driving online engagement. Just consider these Royal Mail report findings.
As a direct result of receiving mail:
92% of recipients are driven to online or digital activity.

87% of recipients are influenced to make online purchases.

86% connected with the business.

54% engaged in social media interactions.

43% downloaded something.
QR codes are easily recognizable and draw readers' attention. They focus attention on a specific, desired engagement, making it easier than ever to drive direct mail recipients to digital action.
4. Personalize Experiences and Track Interactions With QR Codes
Thanks to variable data printing, it's now possible to create unique QR codes for different market segments. A single campaign can be produced and delivered with multiple codes, each of which leads to a personalized digital experience. For example, the same luxury marketing  campaign can send male recipients to a men's clothing page and female recipients to the women's section.
Since QR codes can be linked to unique urls, it's easy to analyze traffic patterns. In the past, it was nearly impossible to connect the digital activities of users to the direct mail they'd received. QR code scanning connects the gaps and provides the kind of valuable insights that shape and improve direct and digital marketing efforts.
5. Cash in on USPS Incentives  
The US Postal Service has a long history of offering direct mail marketers incentives for using certain features. QR codes are no different. In early 2017, USPS announced three specific incentives geared towards combining digital technology with direct mail campaigns:
"This promotion encourages mailers to integrate mail with advances in mobile technology using NFC technology, Video in Print (ViP), Bluetooth Low Energy (BLE)/Beacon technology, "Enhanced" Augmented Reality, Virtual Reality or Digital to Direct Mail experience to allow the recipient to engage in innovative digital and mobile experiences triggered from their mailpiece. New for this year is the inclusion of Virtual Reality to generate opportunities to immerse consumers by creating interactivity and harnessing a first-hand engagement experience. We have also added Digital to Direct Mail to this year's promotion to elicit a higher response from consumers by using dynamically printed, personalized messaging that is automatically triggered based on a digital interaction."
"New Opportunities for the small and medium market segments to grow and attract new mailers. This promotion is offered to first time mailers to promote events and offers that incorporate the use of print-mobile technology on up to 10,000 mailpieces during the length of the promotion."
"Encourage mailers to adopt and invest in technologies that create consumer excitement and highlight the connection between the mailpiece and the digital shopping experience. It is designed to enable customers to conveniently go from the mailpiece directly to a mobile optimized online shopping experience using technology platforms."
While USPS continues to offer new postage rate incentives, they'll likely continue to emphasize digital technologies. QR codes present a unique opportunity to use physical mail to drive mobile action, which is why USPS may continue to offer reduced rates for using QR codes in coming years. For a full list of current deals, visit the US Postal Service Incentives Program page.
7 Unique Ways to Use QR Codes
Now that you know about the benefits and incentives, you're probably excited to add QR codes to your marketing campaign. Not sure how to incorporate codes into your content? There are plenty of ways marketers use QR codes to delight customers and clients. Here are a few of our favorites:
1. Send scanners to a unique landing page. This is a great way to share detailed information on new products or downloadable materials like industry whitepapers.
2. Open locations in maps. Drive foot traffic to brick and mortar locations. It's simple when users can get GPS directions from a quick scan.
3. Autopopulate email fields. A simple scan can open a user's mail app with the email address, subject line, and even body text already added.
4. Call a business or customer service. A quick scan is all consumers need to connect with your team.
5. Add events to calendars. Make it easy for recipients to remember your fundraiser date or product launch by automatically adding the details to their preferred calendar app.
6. Share video assets. Show off your latest product demo or video ad, and strengthen your omni-channel marketing campaigns with a simple scan.
7. Make a sale. Direct scanners to your online shop, a special offer page, or a single product page.
Which strategy will you use in your next direct mail marketing campaign? The answer depends on your brand values, your target audience, and your campaign goals. As you incorporate QR codes into your direct marketing, you'll realize that what works for one campaign may be ineffective for another. Don't be afraid to let your strategy evolve with your goals. As it does, keep these central tips in mind:
Best Practices for Using QR Codes in Marketing
Stick to short URLs. If you're using a QR code to send users to a webpage, keep the address short and clean. This will limit the likelihood of cross-link errors.
Provide clear instructions. Even frequent smartphone users may not know how to scan QR codes. Make sure your code is accompanied by one or two sentences that can help.
Set expectations. Many of us don't trust mystery links, and the same goes for QR codes. Encourage interaction by telling code scanners what to expect.
Offer incentives. A persuasive call to action will boost engagement with your QR codes. Give recipients an exciting answer to the question, "What's in it for me?"
Set your site up for mobile and direct marketing success. Conduct a mobile-friendly test to ensure your linked url (and your webpage as a whole) loads fully and quickly for mobile users.
Test your experience on multiple devices. What works great on a iPhone may not load on an Android or vice versa.
Make the most of QR codes. Share your QR codes in digital ads, web pages, or print collateral.
Includes QR codes in your automation strategy. Track users who've scanned a code and enroll them in targeted automated direct mail workflows. This is a great way for lead nurturing campaigns to provide added value!
Remember that like all marketing tools, QR codes work best when they're integrated into your overall strategy—not tacked on as an afterthought. Continually ask yourself how the QR codes you've created support your marketing goals and your business values. Don't be afraid to change direction and leverage your codes in new, unique ways—and if you're not sure where to start, we're happy to help!
As a smart marketing professional, you know that direct mail is a wise choice to include in your multichannel arsenal. But exactly how effective is direct mail marketing? We're here to answer that question for you. Direct Mail Marketing Continues to Grow ...
read more