You've certainly seen Intelligent Mail barcodes. Whether you work in the printing and mailing industry, or simply receive mail at home, an Intelligent Mail barcode has passed through your hands. To many people, these codes may look like a series of black lines. Yet, there's much more to a direct mail barcode than meets the eye. What is Intelligent Mail barcoding and how can businesses make the most of it? Read on to find out.
What Are Intelligent Mail Barcodes?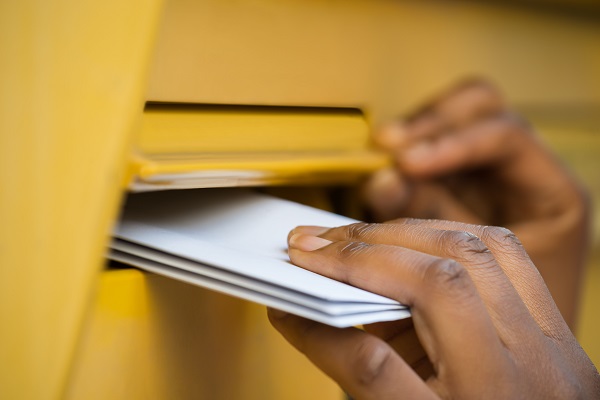 "Intelligent Mail" is a service offered by the United States Postal Service (IMb®). The USPS uses a 65-bar postal barcode to sort and deliver domestic mail. This unique cryptograph is printed on envelopes with the recipient's address. There's a lot of data contained in those little black bars. They identify the distribution center, the carrier route, the sender's business mailer ID, and even the type of mail being sent (First Class, Standard, etc).
All of this data can be read automatically by the USPS mail sorting machines. The result? Quicker, more efficient mail sorting and delivery. Since this system of barcoding shortens delivery times, it also saves on USPS production costs. To get more businesses to use the service, the Postal Service offers direct mail marketing automation discounts to businesses who use Intelligent Mail barcoding for bulk mailings, First Class, or Standard Mail Presort levels of service.
What Are the Benefits of a Direct Mail Barcode?
The USPS isn't the only organization that reaps the benefits of Intelligent Mail barcodes. Businesses, nonprofits, and other groups that use an IMb envelope barcode generator can also gain multiple advantages. These include:
Additional Mail Price Incentives from USPS
Mailers may combine presort discounts with other promotions offered by USPS. There are several promotions available at any given time. Many of these offers aim to encourage mailers to embrace new technologies and capabilities. Here's one example:
Emerging and Advanced Technology Promotion
The Emerging and Advanced Technology Promotion encourages mailers to integrate direct mail with advances in mobile technology using NFC (Near Field Communication) technology. This includes Video in Print (ViP), Beacon technology, "Enhanced" Augmented Reality, Virtual Reality, or a Digital to Direct Mail experience. These allow the recipient to engage in innovative digital experiences triggered by their mail piece. Most recently, the inclusion of Virtual Reality generates opportunities to immerse consumers by creating interactivity and harnessing a first-hand customer engagement experience. The USPS has also added Digital to Direct Mail to the promotion. This will elicit a higher response from consumers, mainly by using dynamically printed, personalized messaging that's automatically triggered based on digital interaction.
Direct Mail Barcodes Reduce Permit Costs
Intelligent Mail barcodes now help full-service mailers streamline their permit process. Through the Mail Anywhere service, mailers simply maintain a single permit and account to pay for all domestic mailings. There's no added permit application fee needed for mailing to additional locations.
Automated Address Correction
Intelligent Mail barcodes integrate with another USPS service called OneCode ACS. This service keeps an updated list of mail that's returned to the post office. Mailers can access this list online and use it to update their own mailing lists, which helps them ensure their mailings make it to mailboxes. It also saves them from wasting money using an envelope barcode generator to send undeliverable mail during their next campaign. The service is available for several classes of mail including:
Flat mailings, postcards, and letters that are first-class

Standard letters and flat mail

Bound printed matter flat mail

Periodical letters and flat mail
Pallet Tracing
Intelligent Mail barcodes don't give mailers the ability to track each piece of mail. However, they are able to trace barcoded mail. Tracing doesn't follow a piece of mail all the way to a person's mailbox. But, it does tell mailers the last USPS location where a pallet of mail was scanned. This automatic feature is free for senders using Intelligent Mail barcodes.
Automated Integration
Creating a true omnichannel marketing experience is about more than delivering material on different platforms. It's also about connecting those touchpoints to create a stronger connection to consumers. Intelligent Mail barcodes make it easier than ever to strengthen these connections. Marketers can create automated marketing campaigns to coincide with specific direct mail triggers. For example, when a mailing about a special offer has its final scan, it can trigger an email to recipients reminding them to check their mailboxes to learn about a big sale. In this way, digital and direct marketing can work together to drive brand awareness and sales.
Can Small Businesses Use Intelligent Mail Barcodes?
The average mailer uses Intelligent Mail barcodes for mailings that include over 10,000 pieces. However, USPS does offer the service for smaller bulk projects, too. Mailers sending smaller bulk jobs can still gain the benefits of Intelligent Mail barcodes. They just need to use Intelligent Mail Small Business (IMsb) Tool. This online tool is used for bulk mailings under 10,000 pieces and for any sender mailing 250,000 or fewer pieces every year.
Some of the benefits of IMsb include:
Send full-service mailings with Intelligent Mail barcodes.

No need to print hard copy postage statements.

Manage your mailing activities, transactions, and mailing history around the clock.

Receive delivery point validation and an automatically updated mailing list.
IMsb does allow for smaller bulk mailings, but it's important to remember that this process requires extra steps. IMsb may be free, but it requires extra time to register for the service and CASS-certify. A business may even need to pay for new software to create barcodes. They may also need to electronically submit larger full-service mailings. CASS certification software itself can cost nearly $1,000 a year. For these reasons, businesses hoping to send small mailings may choose to forego Intelligent Mail barcodes.
Intelligent Mail Barcodes Resources
Now that you know the basics about Intelligent Mail Barcodes, you may be interested in learning more about how to use the service for your own mailing projects. These resources can help:
Intelligent Mail Barcode Specification.

This technical document from the USPS outlines data encoding for Intelligent Mail barcodes. It even goes into detail about the algorithms used and shares a sample of programming code.

Mailpiece Analysis Tools. These tools help mailers ensure their envelope barcode generator creates direct mail barcodes that are compliant.
Encoder Software and Fonts. A full list of USPS Intelligent Mail barcode files, fonts, and encoders is available for download.
IMb Tracing. Additional information and resources on real-time mail tracking information are available through Intelligent Mail Barcoding.
As you can see, there's a lot to learn about Intelligent Mail Barcodes. If you're feeling overwhelmed, have additional questions, or simply want to make sure you get the most out of Intelligent Mail, contact MSP today. We'll put our expertise to work for you.
As a smart marketing professional, you know that direct mail is a wise choice to include in your multichannel arsenal. But exactly how effective is direct mail marketing? We're here to answer that question for you. Direct Mail Marketing Continues to Grow ...
read more